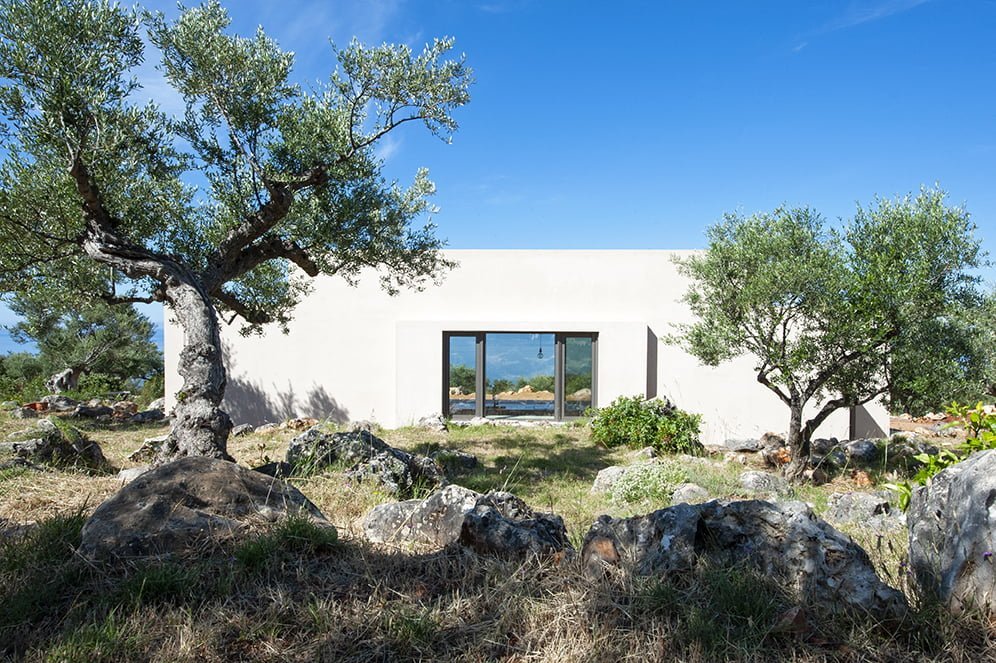 On a South West facing lot with little vegetation and a dry and barren environment, the house seeks a balance between privacy and a relationship with the exterior space. Persistent and easy-maintenance materials are used from the start, understanding the environment and the user's requirements.
The design of this 120 sq. metre house was based on an isosceles cross, on which the main spaces, the open plan kitchen, the dining room, the two bedrooms, the bathroom and the storage room are articulated. The entrance is made from the side of the open-plan kitchen-dining area, which is located on one side of the cross. The two large openings of this space attempt to unify the residence with the external environment and take over the view of the mountain and the sea. The integration of the interior with the exterior is achieved by the use of the same mosaic floor, which was created by the architects.
On either side of the second leg of the cross are articulated bedrooms and auxiliary spaces.
The inclusion of the house in the extremely rocky plot was made with the aim of maintaining the natural relief to the maximum extent. The design was very much determined by the minimal aesthetics of the owners in a logical less is more both in terms of volume and in terms of materials and furniture.
A simple single-story house designed with care to fit in the environment, but generous in space and light, with details that celebrate the natural landscape of the area as well as methods and approaches from the tradition of the Mani.