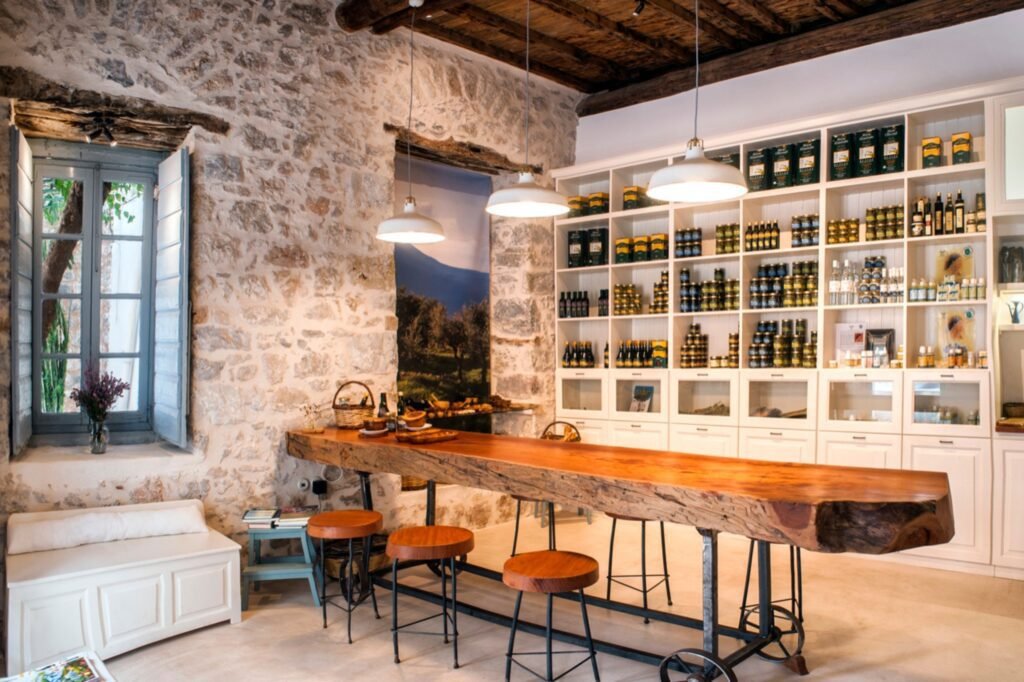 Blauel family Olive Shop

Designed by Eleni Tsigarida and Aiolou Architects in 2014 on Kardamyli high street, the Blauel family created the Olive Shop.
The Blauel firm is local and concentrates on Greek organic goods related to olives and olive oil. The challenge in this project was to promote the products in the very limited given space in a way that was in keeping with the traditional character of the village of Kardamyli.
We decided to adopt the style of the Greek traditional market shops that catered for a variety of functions including basic food, wine and gathering areas as well as a village shop – the Greek Pantopoleio. We designed cupboards inspired by these shops to line the back wall with products as well as a small preparation area. Indisputably, the long wooden table, made from a slice of a eucalyptus trunk, which was designed for this shop and manufactured by a local boat builder, accompanied by stools of a similar style, compose the most eye-catching synthesis as they seem to invite you to discover the tasty world of Blauel. The result is a beautiful space with a hint of an early 20th century feeling together with the softness of timber and polished concrete flooring that look aged.
The white façade with the light blue frames and the grey stone create the perfect base for the graphic elements to stand out and has been a constant reminder that something new, when simple, can become timeless.